The edited volume, Total Worker Health, was released on July 9, 2019 and is now available for order.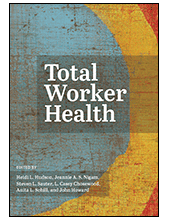 As the first-ever, singular volume on Total Worker Health, it brings together the relevant literature on the theory, research, and practice on integrative prevention strategies to ensure the safety, health, and well-being of working people.
Contributors to this volume represent thought leaders dedicated to highlighting the links between work and worker safety, health, and well-being. The hope for this volume is to influence organizational trailblazers who understand that building a culture of health is an essential best business practice.
Book highlights:
Describes research that shows the relationships between workplace conditions, health behaviors, and community and social determinants of worker health
Presents case examples of integrated workplace safety, health, and well-being programs, and presents evidence of their effectiveness in various occupational and industry contexts
Proposes comprehensive interventions to promote the well-being of society through safe and healthy work design
Includes guidance for making a business case for organizational investment in comprehensive worker safety, health, and well-being priorities     
To order your copy of the book, visit the APA website.